Perfect Gold Accents For Your Holiday Decor
It's here. That special time of year when we transform our homes with sparkling lights and a majestic tree, hang stockings, and begin prepping our family's favorite baked goods. Every year I like to add a few new glimmers of Christmas to our stash of decorations. Sometimes it's fresh lights, and other years it's been a festive tablescape fit for Santa himself. Last year I focused on my front porch and moved beyond a simple wreath.
This year, however, I have my eye on touches of gold. Maybe I was been inspired by a late-night slip into the Pinterest photo vortex, or maybe it's the twinkling stars that keep popping up on these cold winter nights. No matter the inspiration, I've decided that there is nothing like a bold metallic to accent a home for the holidays!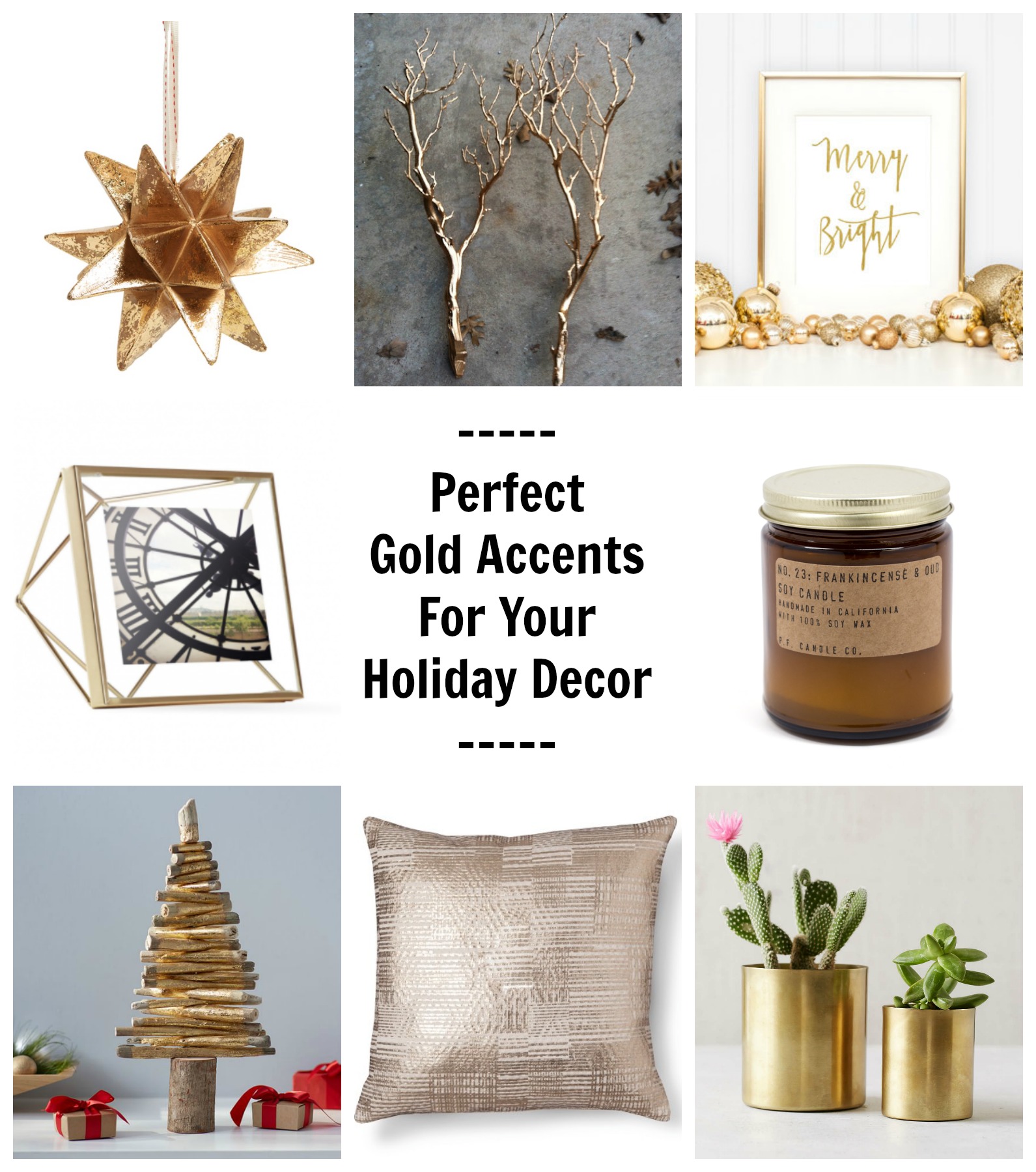 Metallic Star Ornament from Nordstrom: Even though I have young children, I aim to give our Christmas tree a specific theme rather than allowing it to become a crazy hodgepodge. Last year we decorated with snowflakes, and this year it will be red garland with pops of gilded ornaments, such as this gorgeously shimmery star. The contrast with our noble's fir branches are divine!
DIY Gold Branches from Pop Sugar Home: If you're aiming to add gold into your decor, it doesn't necessarily have to be purchased. This DIY is pure holiday perfection, and easy to boot! Go for a long wooded walk to find the perfect height of branches—or if you don't have any at home to spray paint, swing by your local craft store and you're bound to find something sturdy in the floral department.
Merry and Bright Print from Print Shop Studio: When adding to your Christmas decor, always consider supporting a small business. After all, when you support a small business, $73 of every $100 spent stays in the local economy and generally make a huge difference! Besides, is it even possible to not add this $5 print to your wall collage for the holidays?
Prisma Frame from Umbra: One of my favorite ways to decorate for the holidays is to change out photos in our picture frames. I have this exact one and it will be featuring a favorite Instagram snapshot from my daughter's first Christmas.
Frankincense + Oud Candle from Moorea Seal: I'd say something spectacular about this candle's scent, but reading the description already has me adding it to my cart. "A base of frankincense, oud, and amber musk are rounded out with notes of fir, patchouli, and juniper. Notes of bergamot top this resinous and warm scent. Essential oils of birch, cedarwood, pine, amyris, and labdanum give this candle an earthy finish." Doesn't that sound like the scent of such a sophisticated Christmas?
Gold Driftwood Tree from Pottery Barn: Rustic charm at a statement height (19 inches tall), this tree is bound to make any tablescape or mantel a true Christmas beauty.
Threshold Gold Foil Throw Pillow from Target: Buy one or ten, this pillow will pair well with your favorite winter afghan and shine like a Christmas star once you light up your living room with soft candle glow.
Mod Metal Planter from Urban Outfitters: Plant a sweet succulent or cactus so your Christmas tree doesn't feel like the only greenery in your home. Or, turn it into a vase for a petite Christmas bouquet.
Find today's best prices for your
home improvement project.