Stained Glass Window Ideas
Stained glass windows were used for centuries in everything from Egyptian and Roman pottery to Medieval churches and mosques. Then, thousands of years later, contemporary artists like Frank Lloyd Wright demonstrated stained glass can also be used in homes. Stained glass windows are a great solution for homeowners to make their homes unique. Here are a few of our favorite stained glass window ideas to give you some inspiration.
Check out a sneak peek of all the photos, then scroll down to see your favorites!
Stained Glass Front Doors
A stained glass front door makes an immediate impression. First up, a rustic door with added light and character.
Next, this is a stunning mosaic style that is actually an artistic representation of all the Pantone colors used throughout this particular home.
Understated Art Deco
Bright primary hues in windows add just the right touch of color while still allowing light to flood — not to mention they add to some serious curb appeal.
Inspired by Frank Lloyd Wright
Stained glass was given its first, most popular taste of modernity with architect and designer Frank Lloyd Wright's trademark linear style. This style is marked by a combination of geometric patterns and golden tones.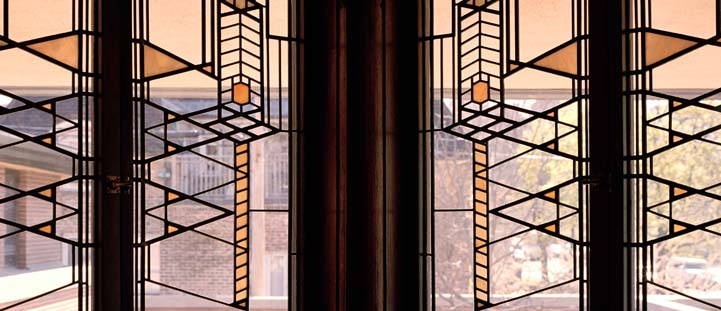 Stained Glass in the Living Room
This modern geometric print gives privacy while still allowing the light to shine through. The large scale of this design also makes it the natural focal point of the room.
Victorian Restoration
If your home has original European-style Victorian or Edwardian windows, there is no reason to get rid of them to make your home more contemporary. A quality restoration job can make them look as good as new. Below are two excellent example of the ways in which traditional and modern styles can come together to create something breathtaking.
Stained Glass Art in Windows
Instead of a full stained glass window, you could also opt for stained glass art.
If you're feeling inspired by these designs and want to add some character and color to your home, there is no reason not to take your stained glass window ideas to a professional and see if they can become a reality.